Spring and summer activities
Spring and summer activities…so much to explore!
Spring and summer activities…so much to explore!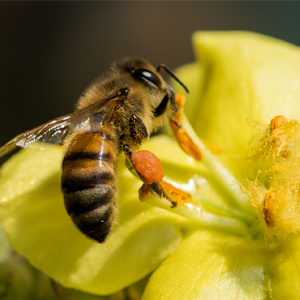 In the Laurentians, nature couldn't be more magnificent offering a multitude of nature loving, sporting and gastronomic activities.  There is something here for all tastes and all ages. It is by wandering by lakes and through forests that you will encounter wildlife and flora while practicing seasonal activities. In the villages, you will find cultural and gastronomic wealth … welcome!
Pool, hot tub, steam bath and gym!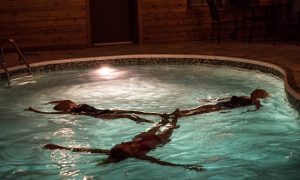 To start your visit, we invite you to discover our new fitness center: Le Soleil.  The facilities include a heated indoor swimming pool, hammam steam bath, an outdoor Nordic spa and a gym … Guaranteed to invigorate you!
Wonderful lakefront park area on site!
On a warm day, you can relax on our private lakefront park area.  Here you will find picnic tables, a badminton net and a ping pong table for fun. Our lake is private and motorless! So the water is clear and swimmable. You will also have the possibility to rent various boats. with life jackets included (usually available from June 1st to September 30th, depending of Mother Nature):
• Kayaks
• Paddle Boats
• Paddle Boards
• Row boat – no motor
NB: It is not permitted to navigate any private boat (row boat, kayak, canoe, paddle board, etc) nor motor on lac a la truite besides those available for rent from Chalets Lac à la Truite.
NB: Small dogs are not allowed at the beach but you can bring them when you rent a boat.
Hiking
As a couple, as a family or with friends, take a nice long walk along the lakes and rivers and through the forests of this beautiful area and discover what mother nature has to offer.  You can simply step outside of your chalet and walk around Lac à la Truite (3 km) or hike through the hiking trails in Sainte-Agathe at Camping Sainte-Agathe centre plein air or try the parc régional de Val-David/Val-Morin (over 60 km of trails) and for a unique stroll experience Centre Touristique et Éducatif  des Laurentides.
Fishing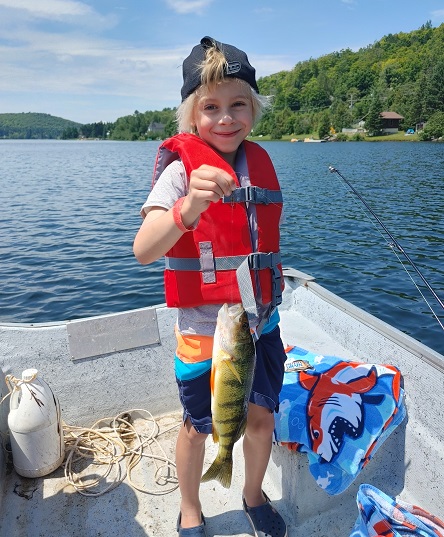 A nice activity that you can practice on our lake early in the season. Here is the opportunity to partake in a sport that will delight young and old. The season opens up late April when the lake has thawed and the fish are eagerly reaching towards the surface. Bring your license or get it in Ste-Agathe and come and catch all kinds of fish: speckled trout, smallmouth bass, perch, sunfish and bullhead (rock and sun) … an occasion to get closer to nature.      
Bicycling
Live an extraordinary experience while cycling.  You'll discover history, culture and landscapes while getting to know the local residents. Bring your bike or rent one and Go!  About 200 kms of the linear park P'tit Train du Nord await you.  It extends from St-Jérôme to Mont-Laurier.  Access is less than 2 kms from our chalets.
For mountain bike buffs: Discover our mountain terrains and push your limits in this sporting adventure.
Golf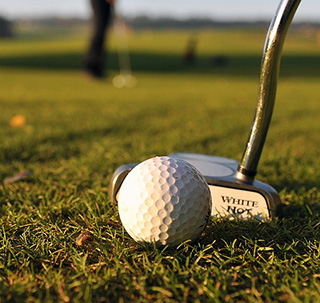 Discover the sport of a thousand challenges. There is no shortage and variety of golf courses in the area for all levels. This sport creates the opportunity for brisk walks in exceptional settings, friendly competition among friends and family and the occasion to excel at ones skills.  (Discounts available)
Some beautiful golf courses near us:
Horseback riding!
Nature lovers, how about a horseback ride? Minutes away from your chalet, an  equestrian adventure awaits you at  Ranch La Douceur in Sainte-Agathe.  Atop your horse you'll witness the incredible natural scenery.  Lots of animals to visit too at the mini-farm.
Zip line across the mountains!
Come conquer your fears by flying high in the sky over the tree line in the forest. There is nothing more exhilarating than traveling from one mountain to the next at over 100 meters above ground! What a view!  All levels and ages are welcome. … discover new sensations at the adventure parc Tyroparc in Ste-Agathe-des-Monts.
Discover new perspectives on nature…
Head towards St-Faustin-Lac-Carré and discover the Sentier des Cimes: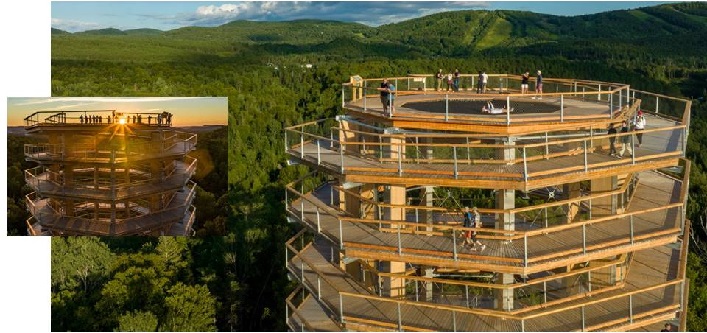 A safe, barrier-free and universally accessible path leading to a panoramic tower – a spectacular viewpoint at a height of 40 meters (equivalent to a dozen floors). Along the route, a few playful balance games are installed at dizzying heights for everyone's enjoyment, and learning stations are set up to show you nature from new perspectives. Open year round! A must see…
A little culture…
Discover the region by taking a one hour cultural tour of Sainte-Agathe-des-Monts; you'll learn about the city's architecture, history and of its pioneers. Come and meet the talented artists of Val-David, many who will amaze and dazzle you … and throughout the summer, both Sainte-Agathe and Val-David offer family events and summer concerts not to be missed!
For families with Young children…
Good weather or bad weather, it's impossible to get bored. Your children can meet Santa Claus in person and the world he lives in with tons of attractions and games, animals and pony rides at Santa Claus Village in Val-David.  On rainy days have fun in the huge indoor amusement park of the Magic Jungle or let them enjoy one of the largest water park in Canada in Saint-Sauveur … laughter and fun guaranteed!
Release your inner gourmet!
Discover the local Farmer's market in Val-David where you will find local produce and homemade goods.
It is in one of the many restaurants, bistros and bars, that you will discover the local specialties.  The Laurentians know how to entertain their guests.  We'll help you find the flavour that you are looking for.
Night life
Enjoy the nightlife!  Pleasure is a must.  There are festivals, restaurants, events, nightclubs and concerts for you to take pleasure in with a partner, family or friends. For short or extended stays, be entertained by the ambience offered, which will set the tone to spend an unforgettable evening.
Pets are not allowed on our beach
Call us to book your chalet today and enjoy the FUN!
1-819-321-2222
We welcome you!